Click & Collect
Welcome to our Click and Collect Page. Our Pharmacy focuses on the treatment of minor to moderate medical conditions. We stock over 2,000 pharmaceuticals, many of which are exclusive to Pharmacy.
THIS IS A CLICK AND COLLECT SERVICE ONLY.
We also offer a wide range of services including:
Emergency Contraceptive Pill (ECP)

Urinary Tract Infection Prescribing

ED (Silvasta) Prescribing

Oral Contraceptive Pill Prescribing

NRT (Nicotine Replacement Therapy)
The following products are on Promotion and may be purchased by Click and Collect.
Please show us a copy of your order when coming to collect your items.
Your order will be ready for collection in store within one working day based on our normal working days.
Sorry no refunds on uncollected items.
PLEASE NOTE: THIS IS A CLICK AND COLLECT SERVICE WE DO NOT COURIER PRODUCTS AROUND NEW ZEALAND.
« Back to productsPure Moist Economy Pack - Contact Lens Solution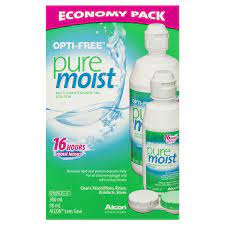 Normally: $31.99
Our price: $29.99
Contents: 300ml+90ml

Cleans, reconditions, rinses, disinfects and stores

PRECAUTIONS:
• Always discard solution from lens case after each use
• Keep the bottle tightly closed when not in use
• Use before expiration date marked on the carton and bottle
• Discard remaining solution within 90 days after opening
• Keep out of reach of children
• Store at room temperature


Pde: 2400251