Click & Collect: Pick up in-store in one hour
Welcome to our Click and Collect Page. Our Pharmacy focuses on the treatment of minor to moderate medical conditions. We stock over 2,000 pharmaceuticals, many of which are exclusive to Pharmacy.
We also offer a wide range of services including:
Emergency Contraceptive Pill (ECP)

Urinary Tract Infection Prescribing

ED (Silvasta) Prescribing

Oral Contraceptive Pill Prescribing

NRT (Nicotine Replacement Therapy)
The following products are on Promotion and may be purchased by Click and Collect in one hour, instore.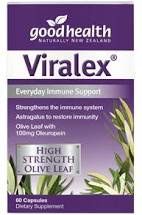 Normally: $24.99
Our price: $23.50
Good Health Viralex 30 Capsules - Everyday Immune Support

Natural, fast acting formula to fight ills and chills.

A comprehensive formula designed to strengthen the body's defences and support the immune system. High strength Olive Leaf combined with Astragalus, Beta Glucan, Zinc and Vitamin D boosts immunity and provides year round immune support.

Pde: 2155133

Not recommended during pregnancy or breastfeeding.

Keep out of reach of children.

Do not use if blister seal is broken.