Click & Collect: Pick up in-store in one hour
Welcome to our Click and Collect Page. Our Pharmacy focuses on the treatment of minor to moderate medical conditions. We stock over 2,000 pharmaceuticals, many of which are exclusive to Pharmacy.
We also offer a wide range of services including:
Emergency Contraceptive Pill (ECP)

Urinary Tract Infection Prescribing

ED (Silvasta) Prescribing

Oral Contraceptive Pill Prescribing

NRT (Nicotine Replacement Therapy)
The following products are on Promotion and may be purchased by Click and Collect in one hour, instore.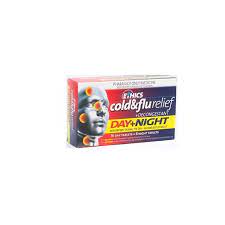 Normally: $16.99
Our price: $13.99
Ethics Cold & Flu relief tablets 24

Effective, temporary relief of body aches and pain, sore throat, headaches, fever blocked or runny noses.

Active Ingredients:
Paracetamol 500mg,
Phenylepherine 5mg
Chlorphenamine maleate 2mg

Dosage:
Day tablets:
Adults and children over 12 years: take 2 brown tablets in the morning and 2 brown tablets in the afternoon as needed.

Night tablets:
Adults and children over 12 years: Take 2 orange tablets in the evening at bedtime as needed.

Warnings:
Not suitable for children under 12 years of age.

Adults do not take this medicine for longer than a few days at a time unless advised by a doctor.

Do not take with other products containing paracetamol or other medicines intended to treat the symptoms of the common cold.

Do not use with other antihistamines.

Tablets containing Chlorphenamine may cause drowiness.

Phenylephrine may cause sleeplessness in some people.

Be cautious about driving a vehicle or operating machinery within 8 hours of taking this medicine.

Prolonged or excessive use can be harmful.

Customer declaration: I agree to use this pharmacy-only medicine strictly as directed. If symptoms persist, or if I suffer any adverse effects, I will contact my pharmacist or doctor immediately. I acknowledge that I have read and understood the information provided about this medicine.